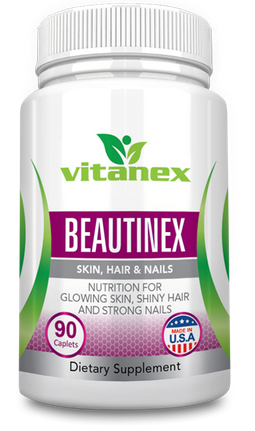 Balanced Supplement for Beauty
The special blend of nutrients in this formula can promote glowing skin, shiny hair, and strong, healthy nails.
Healthy is Beautiful! Beautinex is a complete daily multi-vitamin that also provides targeted nutrition for healthy, lustrous hair, glowing skin and strong nails. Complete daily nutrition to help you feel as good as you look.
See the Difference

Glowing skin, healthy hair and strong nails are a reflection of your general overall health - both inside and out. In order to keep your hair, skin and nails beautifully youthful and healthy, vitamins and minerals must be brought to the surface from within. Stress, poor eating habits and environmental pollutants drain the body of the vital nutrients it needs to help keep its healthy appearance. Beautinex provides a complete array of nutrients required to nourish skin, hair and nails from within.

Supplies 200 mcg of biotin to help fortify and nourish hair and nails.
Features sulfur-bearing amino acids to support strong and resilient hair, skin and nails.
Includes Zinc, which has been shown to help reduce skin inflammation.
You'll actually see the difference, too! Women report seeing an improvement in their nails in as little as 2 weeks.

Feel the Difference

Beautinex is also a complete daily vitamin and mineral formula that provides your body with all the nutrients it needs to support an active lifestyle and good health. As Your Beauty Multi-Vitamin, it can replace your current multi-vitamin.

Over 26 specially combined vitamins, minerals and herbs provide the nutrients your body needs and helps correct the effect of dietary deficiencies.
Packed with 850 mg of calcium per daily dose.
Provides antioxidant support from selenium and vitamins C, and E.
A complete B vitamin complex provides nutritional stress support and cardio protection by helping to reduce homocysteine levels.
Supplement Facts
Serving size 3 caplets
| Sr. No. | Name | Amount per serving | %DV |
| --- | --- | --- | --- |
| 1 | Vitamin A (as retinyl palmitate) | 5000 IU | 100% |
| 2 | Vitamin C (as ascorbic acid and rose hips) | 70 mg | 117% |
| 3 | Vitamin D (as Vitamin D3) | 200 IU | 50 % |
| 4 | Vitamin E (as d-alpha tocopherol acetate) | 15 IU | 50 % |
| 5 | Thiamin (Vitamin B1 as thiamin mononitrate) | 6 mg | 400 % |
| 6 | Riboflavin (Vitamin B2) | 6 mg | 353 % |
| 7 | Niacin (as niacinamide) | 25 mg | 125 % |
| 8 | Vitamin B6 (as pyridoxine hydrocloride) | 6 mg | 300 % |
| 9 | Folic acid | 300 mcg | 75 % |
| 10 | Vitamin B12 (as cyanocobalamin) | 10 mcg | 167 % |
| 11 | Biotin (as d-biotin) | 200 mcg | 67% |
| 12 | Pantothenic acid (as d-calcium pantothenate) | 15 mg | 150 % |
| 13 | Calcium (as dicalcium phosphate and calcium carbonate) | 850 mg | 85 % |
* Daily value (DV) not establised
| Sr. No. | Name | Amount per serving | %DV |
| --- | --- | --- | --- |
| 14 | Iron (as ferrous fumarate) | 3 mg | 17% |
| 15 | Phosphorus (as dicalcium phosphate) | 330 mg | 33 % |
| 16 | Iodine (as potassium iodine) | 150 mcg | 100 % |
| 17 | Magnesium (as magnesium oxide) | 100 mg | 25 % |
| 18 | Zinc (as zinc oxide) | 10 mg | 67 % |
| 19 | Selenim (as L-selenomethionine) | 20 mcg | 29 % |
| 20 | Maganese (as maganese salfate) | 5 mg | 250 % |
| 21 | Choline bitartrate | 80 mg | * |
| 22 | Betaine hydrocloride | 30 mg | * |
| 23 | Citrus bioflavonoids (from citrus spp. , fruit) | 30 mg | * |
| 24 | Inositol | 30 mg | * |
| 25 | PABA (para aminobenzoic acid) | 30 mg | * |
| 26 | RNA (ribonucleic acid) | 30 mg | * |
| 27 | Rutin (From Dimorphandra mollis , fruit) | 15 mg | * |
* Daily value (DV) not establised