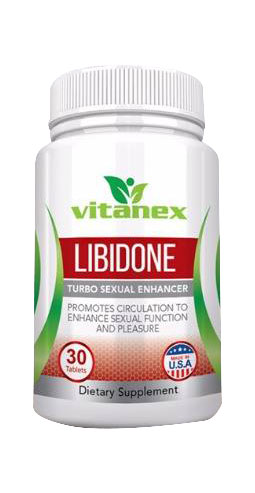 Turbo Sexual Enhancer
Enjoy every sexual experience
Libidone helps increase libido in a man or a woman within a few days, and the benefits improve with time. After years of clinical research, a highly effective proprietary blend with more than a dozen herbal extracts from the best raw material suppliers has been identified to increase sexual pleasure in men and women naturally with the fewest side effects.
Libidone enhances:
Libido and sexual pleasure
Erectile function
Orgasms and climaxes
Sensation of genital organs in men and women
Libidone ingredients include following natural herbs:
Muira puama

Muira puama, also called "potency wood," is a small tree native to the Brazilian Amazon. The bark and root are the primary parts that are utilized. Indigenous peoples use muira puama for the therapy of sexual debility, fatigue, neuromuscular problems, and rheumatism. Its botanical name is Ptychopetalum olacoides.

Guarana

Guarana is derived from the seeds of a South American tree. Because it's high in caffeine, guarana has become a popular energy supplement. Sometimes it is used to boost athletic or sexual performance. The side effects of guarana are generally the same as the side effects of caffeine. They include sleep problems, anxiety, restlessness, upset stomach, and quickened heartbeat.
Yohimbine

Yohimbe is a tree native to Western Africa, where its bark has long been thought to boost libido. The active ingredient from the bark of yohimbe -- yohimbine -- is used in some prescription drugs for erectile dysfunction. There's a key difference between the natural supplement yohimbe and the chemical yohimbine. Although yohimbine comes from the yohimbe bark, it's concentrated and standardized.

Studies have shown that drugs containing the chemical yohimbine work for erectile dysfunction. Yohimbine drugs have also been used to ease the sexual side effects of antidepressants and to treat low sex drive in women.

Tribulus Terrestris

People use the fruit, leaf, or root of the tribulus plant as medicine. Over the years, people have taken tribulus in an attempt to enhance athletic performance and for a wide range of health issues that may include heart and circulatory conditions and sexual issues. There have also been some studies that show some benefit to those people with certain sexual problems and infertility.

Horny Goat Weed (Epimedium)

Horny goat weed is an herb that has been a traditional remedy in China for centuries. It's used for low libido, erectile dysfunction, fatigue, pain, and other conditions. Some men take horny goat weed in the belief that it's a natural alternative to drugs for erectile dysfunction (ED). Although still preliminary, there's new evidence to support the idea. A 2008 lab study found that a compound in the herb blocks the effects of an enzyme that restricts blood flow to the penis. Epimedium, the suspected active component of horny goat weed, appears to act as a phosphodiesterase inhibitor, similar to some drugs used for ED. What's more, the study indicated that horny goat weed could theoretically work better -- and cause fewer side effects -- than current drugs for erectile dysfunction.

Nettle

Stinging nettle is a plant. People use the root and above ground parts as medicine. Stinging nettle may help in cases of a decreased sex drive due to its ability to keep testosterone active. The lignans found in the herb may also interact with sex hormone-binding globulin, or SHBG, to prevent it from removing testosterone from circulation. Using stinging nettle as a libido stimulant is often preferred over many other treatments because it does not contribute to benign prostatic hypertrophy.

Saw Palmetto

The ripe fruit of saw palmetto is used in several forms, including ground and dried fruit or whole berries. It is available as a liquid extract, tablets, capsules, and as an infusion or a tea. Saw palmetto is one of the most well researched herbs. It is clear from scientific data that the herb can help improve symptoms in men with mild to moderately enlarged prostate. At the same time, one of the indications of Saw palmetto is to treat sexual problems in men, such as loss of libido and impotence.

Maca

Maca is a plant that grows in central Peru in the high plateaus of the Andes Mountains. Maca is used for anemia; chronic fatigue syndrome (CFS); and enhancing energy, stamina, athletic performance, memory, and fertility. Women use maca for female hormone imbalance, menstrual problems, and symptoms of menopause. Maca is also used for depression, erectile dysfunction (ED), to arouse sexual desire, and to boost the immune system.

Artichoke

Artichoke is a plant. The leaf, stem, and root are used to make extracts. Artichokes are Nature's very own aphrodisiacs. Rich in natural antioxidants, artichokes help release oxytocin that helps boost the sex drive in men.

Korean Ginseng

There are several types of ginseng, two of which are Siberian ginseng, which is occasionally used as an aphrodisiac, and red Korean or Asian ginseng, which is used in Chinese traditional medicine and has slightly more research behind it. This herb is renowned for its general tonic actions in the body, though some practitioners recommend it specifically for enlivening sexual energy too. In one study, Korean ginseng taken for 8 weeks was found to improve erectile ability in 60 per cent of men who took it. In particular, Korean ginseng seemed to increase the likelihood of successful penetration and the maintenance of an erection compared to placebo (inactive medication).

Damiana

Damiana is a small shrub with aromatic leaves found on dry, sunny, rocky hillsides in south Texas, Southern California, Mexico, and Central America. Damiana leaves have been used as an aphrodisiac and to boost sexual potency by the native peoples of Mexico, including the Mayan Indians. It stimulates the intestinal tract and brings oxygen to the genital area. It also increases energy levels, which does a lot to restore libido and desire. In women, Damiana often restores the ability to achieve orgasm. Damiana is used primarily as an energy tonic and an aphrodisiac for both men and women.

Velvet Deer Antler

Antlers are organs of bone, which regenerate each year from the heads of male deer. Deer antler velvet contains many substances including amino acids, minerals, proteins, anti-inflammatory peptides, hormones, gangliosides and glycosaminoglycans, and Insulin-like Growth Factor-1, IGF1. Some people use deer velvet to increase levels of certain sex hormones (estrogen and testosterone), improve fertility, increase interest in sexual activity (as an aphrodisiac), and treat male sexual performance problems (erectile dysfunction, ED). Women use deer velvet to reduce the dose of estrogen they need in hormone replacement therapy. They also use it for menstrual and menopause problems, vaginal discharges, and uterine bleeding.

Velvet Bean

Velvet bean extract comes from the velvet bean, which is a legume found in Africa, India, and the Caribbean. Velvet bean has traditional and medicinal uses. It contains 15% L-Dopa which is a precursor of Dopamine which is a neurotransmitter that enhances mood. It has been used to treat pain, infertility, increase libido, calm nerves, lower blood sugar and lower cholesterol. In Brazil and India, Velvet Bean research has proven its aphrodisiac properties. It should not be used by pregnant or lactating women because it can lower prolactin and it increases testosterone.
Supplement Facts
Serving size 2 tablets
| Sr. No. | Name | Amount per serving | %DV |
| --- | --- | --- | --- |
| 1 | Zinc (as zinc monomethionie) | 5 mg | 33% |
| 2 | L - Arginnie HCI 90% | 1000 mg | * |
| 3 | Muira puama (Ptychopetalum olacoides) | 400 mg | * |
| 4 | Guarana (Paullinia cupana, extract, fortified to contain 22% caffeine) | 300 mg | * |
| 5 | Yohimbine (Pausinystalia johimbe, Bark, extract) | 250 mg | * |
| 6 | L - Taurine | 200 mg | * |
| 7 | Tribulus (Tribulus Terrestris) | 175 mg | * |
| 8 | Oat straw (Avena sativa) | 150 mg | * |
| 9 | Horny Goat Weed (Epimedium grandiflorum) | 100 mg | * |
| 10 | Nettle (Utrica dioica, root) | 100 mg | * |
| 11 | Solec TM high phosphatidylcholine soy lecithin | 100 mg | * |
| 12 | Saw Palmetto (Serenoa serullata ) | 60 mg | * |
| 13 | Ginger root (Zingiber officinale) | 50 mg | * |
| 14 | Maca (Lepidium meyenii , root) | 50 mg | * |
| 15 | Artichoke (cynara scolumus) | 40 mg | * |
| 16 | Korean Ginseng (Panax ginseng) | 40 mg | * |
| 17 | Deer Antler Velvet (Cervus elaphus) | 35 mg | * |
| 18 | Damiana (Turnera diffusa, leaf) | 35 mg | * |
| 19 | Velvet Bean (Mucuna pruriens, 15% L-dopa) | 25 mg | * |
* Daily value (DV) not establised