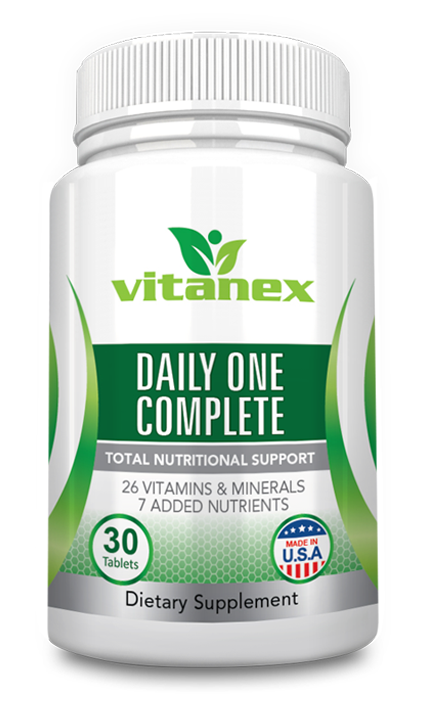 Total Nutritional Support
A Daily One Complete is a great nutrition insurance policy.
True, a healthy diet should provide nearly all the nutrients you need. But many people don't eat the healthiest of diets. That's why a multivitamin can help fill in the gaps, and may have added health benefits.
The folic acid in most multivitamins helps prevent neural tube defects in newborns, if women take it before they become pregnant; folic acid may also lower the risk of heart disease, colon cancer, and breast cancer.
Vitamin D from a multivitamin or single supplement can lower the risk of colon and possibly many other cancers, as well as other chronic diseases.
In general, stick close to standard recommended doses in a multivitamin. Unless your physician recommends an intake of more than 100 percent of the recommended daily intake of a particular nutrient, you probably don't need it.
The potential health benefits of taking a standard daily multivitamin seem to outweigh the potential risks for most people. A study published in the Journal of the American Medical Association (JAMA) found that taking a daily multivitamin can reduce the risk of cancer by 12 percent in men aged 50 and older and appears to have no dangerous side effects.
Daily One Complete is a potent, convenient way to help fill in the nutritional gaps in your daily diet. It offers the added nutritional benefits of 26 vitamins and minerals with 7 added nutrients.
Key nutrients you need, daily.
One tablet a day
26 essential vitamins and minerals
Exclusive Daily One Complete formulation
Added 7 nutrients benefit beyond vitamins and minerals
Antioxidant protection against free radicals